SAGE HONORED 9 YEARS IN A ROW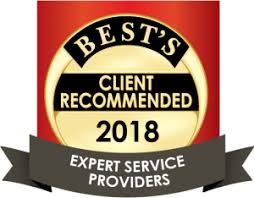 Press Releases
The Sage Group has been named one of A.M. BEST's CLIENT RECOMMENDED EXPERT SERVICE PROVIDERS for 2018. This is the 9th year in a row that The Sage Group has been honored with this prestigious distinction.
A.M. Best is a specialty rating agency focused primarily on the insurance industry and service providers to the industry. Annually the 119-year-old firm publishes directories of Expert Service Providers considered to be the top resource for insurance claims professionals seeking attorneys, adjusters and expert service providers qualified to handle their unique business needs. Only firms like The Sage Group whose clients recommend Sage for inclusion are listed.
Customer loyalty and relationship management are powerful assets in this business generation called the "experience era." Walker Information Inc., a leader in the customer experience consulting market for 80 years, reported earlier this year that the customer experience will overtake product and price as the key brand differentiator by 2020. According to Agile CRM, developers of customer experience support software since 2001, consumers are increasingly concerned about receiving a positive customer experience. Ditto says Inc.com, the online business magazine published since 1979, noting that customer recommendations are one of the four top customer retention tools used in business today.
Congratulations The Sage Group!
categories
archives