The Sage Group a heartbeat away from Denver's new Union Station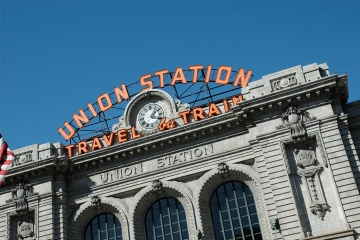 Denver, Colo.—Denver's historic Union Station is set to open July 12 with a huge public celebration. Two and one-half years in the works, the transportation center features retail stores, a 122-room boutique hotel and dining at restaurants featuring some of the region's finest chefs. Colorado's Milender White Construction Company is the general contractor of the multi-modal transportation hub representing the new age of connectivity. RTD buses, Light Rail and train service the station.
Sage's headquarters in the Carter Rice building is one of the few remaining examples of Second Renaissance Revival architecture in Denver's central business district, typical of the small-scale warehouse and commercial structures built in LoDo around 1900.
"Proximity to a transportation hub positions Sage to model green work practices. Our location is an asset, and the opening of the renovated transportation center gives a much needed boost to energy conscious and LEED building practices that we endorse," says Don Harrington, Sage VP, adding, "This kicks off a whole new era for transportation at a Mile High. We'll be there!"
For more information visit www.unionstationindenver.com.
categories
archives